Amanda Litman
Amanda Litman is the co-founder and executive director of Run for Something, a PAC that helps recruit and support young, diverse progressives running for down-ballot office. Previously, she was the email director for Hillary Clinton's 2016 presidential campaign, digital director for Charlie Crist's 2014 Florida gubernatorial campaign, deputy email director for Organizing for Action, and an email writer for Barack Obama's 2012 re-election campaign. She graduated from Northwestern University in 2012 with a B.A. in American Studies. She lives in Brooklyn with her rescue dog, Sadie. For more information, visit RunForSomething.net and follow @AmandaLitman on Twitter.
Books by this Author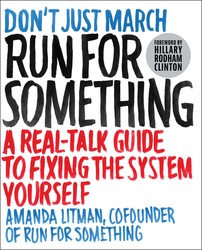 The must-have guide for young progressives looking to run for local office, complete with contributions from elected officials and political operatives.

You've been depressed since the night of November 8, 2016. You wore black to work the next morning. You berated yourself for your complacency during the Obama years. You ranted on Twitter. You deleted Twitter. You sent emails to your friends saying, "How can we get more involved?" You listened to Pod Save America. You knit­ted a...
To download a file to your computer right-click on the link and choose 'save file as'.
High Resolution Images